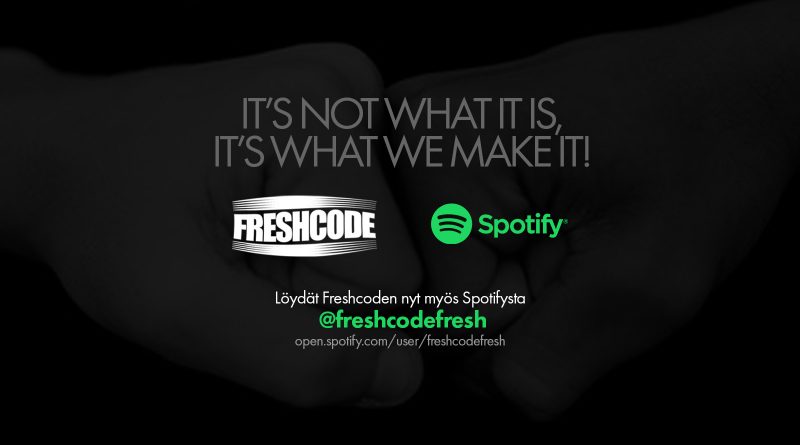 13.3.2017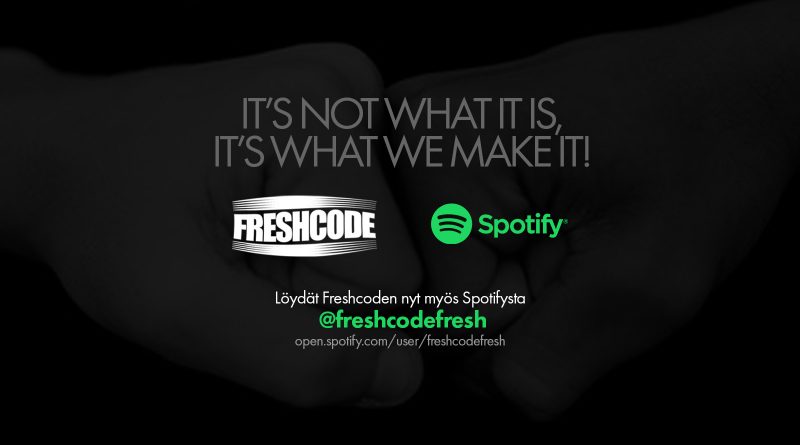 Löydät Freshcoden nyt myös Spotifysta nimellä freshcodefresh: http://spoti.fi/2lSIQbx. Tarjoilemme heti tuoreen soittolistan viime perjantain Freshcode Hip Hop Connection -illan DJ-soittolistoihin (djsucks!, Haid, Hu Yo Tit Zoo) ja livekeikkaan (K. Luu & Hurjamayn) perustuen!
Kuuntele Freshcoden ensimmäinen soittolista Spotifyssa:
Freshcode Hip Hop Connection 10.3.2017
Listalla kappaleita ensin djsucks! Old Skool Rap -setistä, väliin Haidin tarjoilemaa uudempaa tavaraa, K. Luu & Hurjamaynin vasta julkaistua turkulaista suomiräppiä kokoonpanon uudelta O.T.O.S. -ep:ltä ja lopuksi Hu Yo Tit Zoo:n vanhan koulun hip hop -painotteisesta paketista.
Ymmärrettävästi varsinkaan vanhempi tavara ei kokonaisuudessaan löytynyt Spotifysta, ja Haidin setistäkin jäi pois miehen omaa tuotantoa ja muita kappaleita. Alla täyteläisemmät soittolistat joiden perusteella em. Spotify-soittolista tehtiin.
–
djsucks! – Old School RAP
(ulkomuistista, ei järjestyksessä)
Mantronix – Bassline
Kurtis Blow – AJ Scratch
Spoonie Gee – Mighty Mike Tyson
Spoonie Gee – I'll Serve You Right
JVC Force – Stylin' Lyrics
Poor Righteous Teachers – Time To Say Peace
Grandmaster Flash & The Furious Five – Larry's Dance Theme (instr)
Steady B – What's My Name
Schoolly D – Gucci Time
Schoolly D – PSK-What Does It Mean?
Treacherous Three – U.F.O.
King Sun D Moët – Mythological Rapper
Run-DMC – You're Blind
Marley Marl – He Cuts So Fresh
Grand Wizard Theodore – Military Break
Double Trouble – At the Amphitheatre
Haid
Metro Boomin – Forever Young
Jonwayne – Andrew
Mounika – I Know After Laughter
Shlohmo – Parties
Haid – we've all been in love
Tomppabeats – Oooo
Post Malone – I Fall Apart
Alicks – What It Meant To Me
Versace Henrik – Fuck Life Stay Online (Haid Remix)
Lil Peep – OMFG
Friendzone – TASWELL
Migos – Bad and Boujee feat. Lil Uzi Vert (Haid Remix)
Run The Jewels – Run The Jewels
Run The Jewels – Close Your Eyes (And Count To Fuck)
Lil Uzi Vert – You Was Right
Haid – Show Me The Money
Lil Yachty – Wanna Be US (Feat. TheGoodPErry)
Haid – Tivolibeat
J Dilla – Time: The Donut Of The Heart
K. Luu & Hurjamayn
Live
Temppeli
Mispäimennää
M.C.I.
Hu Yo Tit Zoo
(ei tarkassa järjestyksessä)
Grandmaster Caz: Get down GMC
Steady B: Bring the beat back
Krush Groove All Stars: Krush groovin'
Troopers (Kay Gee The All & DJ Tony Crush): I like it
The B-Boys: Stick up kid
Shelly Thunder: No future in frontin'
Grandmaster Flash & The Furious Five: It's nasty
Jonzun Crew: Space cowboy
Mantronix: Fresh is the word
Audio Two: Top billin'
Defari: Never lose touch
Big L feat. Party Arty: Raw and ready
Low Profile: Comin' straight from the heart
Biz Markie: Make the music with your mouth, Biz
Grandmaster Flash & The Furious Five: Scorpio
T La Rock: Back to burn
Rockers Revenge: Battle Cry
The Cold Crush Brothers: Punk Rock Rap (Party Mix)